These pages are an introduction to Chard Reservoir and its wildlife.
Chard is a small town in Somerset, England, UK. The reservoir is only about a mile from the centre of Chard town and is regularly visited by local people, the surrounding meadows being popular for dog walking. The north and eastern fringes are fished and there is a bird hide at the south end which is positioned well out into the water giving a view of most of the open water. The site is well hidden from all but the closest houses and many shoppers in nearby Chard town may be completely unaware of the existence of this substantial stretch of water. The postcode TA20 1HU should get you to the car park in Oaklands Avenue by sat nav or smart phone.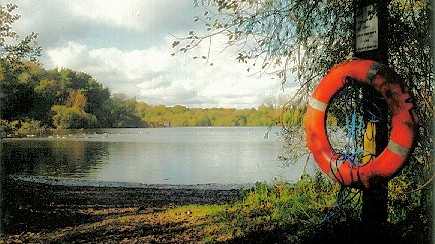 Looking towards the bird hide: ZOOM in.
My passion is birdwatching, so apologies for the bias towards birds. I'd like to do more on butterflies, plants, fungi.... But for now....
Click below for pages on the wildlife at Chard Reservoir.
Recent Sightings Updated almost daily


Species Records Bird Records from the past, species by species


Birds Introduction to Chard's birds


Fish Wet slippery things


Mammals Cuddly furry things


Insects Pretty delicate things


Snaps Photos around the reservoir


Wallpaper The 'Res' as a background for your desktop

Other Local sites:
Some other UK based birding sites:
Contact for this website:
Click here to email me: kevbirder@gmail.com

All drawings, photos and bird icons on this website are by Kevin Harris unless otherwise stated. The species by species section contains paintings by Baz Stevens and photos and illustrations by Kev Ilsley from the now defunct Tit'n'Grebe website, plus additional photos provided by Tony Keene, Bob Hastie and Rosemary Ottery. Thanks to you all.
Regularly updated website started as a Millenium project in January 2000
Home page updated August 2022© Kevin Harris