Birds
The reservoir and its surrounding woods and meadows attract a wide variety of birds, from ducks, to woodpeckers, warblers and finches. Different times of year and even different times of day each reveal a new mix of birds. The reservoir repays patient watching as birds come and go throughout the day.
There is a bird hide at the south end which gives a good view across nearly all the open water.

Grebes
The Great Crested Grebe is a favourite water bird which is nearly always present and breeds here. Strangely the Little Grebe or Dabchick while common in similar water elsewhere is fairly irregular at Chard.
Herons and Cormorants
| | | |
| --- | --- | --- |
| | Grey Heron and Cormorant are two common birds which you would be very unlucky to miss. There have been up to 31 Grey Herons present on the reservoir at one time, but 2 or 3 is more usual. The once rare Little Egret is becoming regular here as they are elsewhere with exceptionally 32 having been seen together. There was one record of a long staying Great White Egret in 2009 and another record of 2 in August 2012 and yet another in November 2012. Bittern is a very rare winter visitor. | |
Geese
Canada Geese can visit in some numbers, occasionally bringing an exotic along with them like Bar-headed Goose.
Ducks
The ubiquitous Mallard makes itself at home, helped along by left over sandwiches. In fact you're likely to almost fall over these duck as you approach the duck feeding station. The wilder species of duck make an appearance mostly in the autumn/winter period with Teal, Shoveler, Wigeon, Tufted Duck and Pochard all regular. Goosander have been seen more in recent winters.
Birds of Prey

Buzzard is the biggest and commonest bird of prey around here. It breeds nearby and may often be seen over the marginal trees. Sparrowhawk is the other bird of prey seen most often in and around the trees surrounding the water. The Kestrel is sometimes seen in the surrounding fields and Hobby and Peregrine are a more unusual sight, but do occur. Osprey is the star bird of prey at Chard with 7 sightings in the '90s, but fewer since.
Crakes and Rails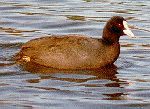 Both Moorhen and Coot may be found year round, with Coot numbers boosted by migrants in winter. Water Rail is an occasional visitor which is heard more often than it is seen. Listen out for a sound like a squealing pig!

Waders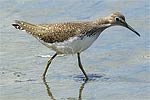 Chard is generally poor for waders, with Common Sandpiper the most likely find. Snipe and Green Sandpipers are also regular. Redshank, Greenshank, Dunlin or Black-tailed Godwit are the next most likely occasional find.
Gulls and Terns

Black-headed Gulls and Herring Gulls are most likely, with Lesser Black-backed and Common Gull also often present. Mediterranean Gull is an increasingly regular but still unusual visitor. Terns do visit in the summer, but no species is common.

Kingfisher

Kingfishers are frequent visitors to Chard and they nest nearby. Despite their brilliant colours, these birds are often first noticed by the distinctive high pitched piping call.
Woodland Birds
The surrounding woods are excellent for some solid woodland species like Treecreeper, Nuthatch and Jay.

You're also very likely to find Long Tailed Tits and Marsh Tits in the area near the hide, but only an outside chance of finding the much rarer Willow Tit. All three woodpecker species occur at Chard, but you'll need a lot of luck to catch a glimpse of the sparrow sized Lesser Spotted Woodpecker.

Warblers
The woods attract Chiffchaff, Willow Warbler and Blackcap, and the reeds attract Reed Warblers to breed.
Buntings
Reed Buntings are regular, but sometimes elusive. Yellowhammers should be found in the hedgerows, but they are increasingly scarce

Top

Home
email: kevbirder@gmail.com

All photos on this page taken at Chard Reservoir by Kevin Harris.