What to look for in December
Duck numbers rise in winter, often in response to cold weather and it's a good month for Grebes.
A Black-necked Grebe was seen in December 2001 and the only record of Red-necked Grebe was in December 1978. Also Two of the three Slavonian Grebe records were in December.
Rarely Bewick's Swans have been recorded in harsh weather this month. Teal, Wigeon and Shoveler are all likely to be seen through the winter. The record count of 12 Gadwall was in this month and the last couple of years have seen an increase throughout the year. Goosander is another of the birds bucking the trend with more records in recent years. Goldeneye and Scaup are scarce winter visitors that can occur this month. I calculated that the chance of seeing a Smew on any one winter's day is about 500 to one against, so lots of visits required. Pochard and Pintail are more likely, but even these are less common recently. Two drake Ring-necked Ducks were kind enough to visit in 2011.
Coot numbers increase in winter but you would be lucky to see more than 15 or 20 these days. The last counts of over 100 birds were in the eighties. Water Rail is a good possibility, though often difficult to see. Woodcock is a sporadic visitor with just 4 December records, but this is a good month for Snipe.
Siskin is a pretty winter visitor to the tops of the trees that is frequently overlooked and Redpoll is a more uncommon find during the winter months.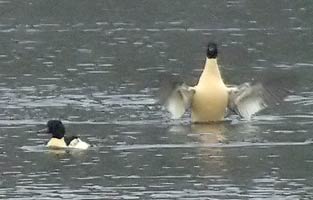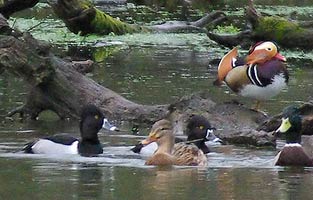 Home Page