August 3rd 2006
Mute Swan 2
Common Sandpiper 2
Redshank 2
Black Headed Gull c.130
Lesser Black Backed Gull 5
Reed Warbler 2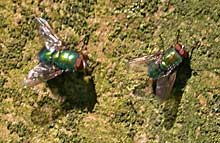 There are lots of flies around at the moment. I would call them Greenbottles. I watched a Reed Warbler catch one while still holding two others in its bill.
The two Redshank went for a swim with the Black Headed Gulls. They do look odd floating in the water.
Also a large Fritillary Butterfly seen in the Meadow today.